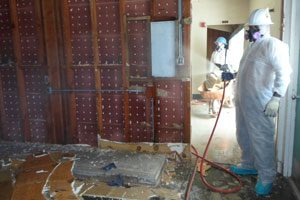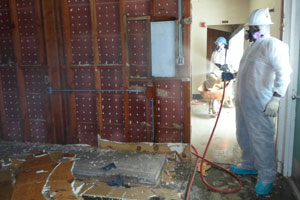 At M3 Environmental, we provide asbestos testing in Monterey as well as Northern California, Central California, and across the Central Coast for government agencies, commercial property owners, property managers, contractors, and homeowners. As California certified asbestos consultants, we offer asbestos testing, remediation plan development, and abatement project oversight.
What is Asbestos?
Asbestos is a group of six minerals naturally found in rock and soil that were widely used in construction applications prior to 1980 because of their tensile strength, fire and heat resistance, and acoustic absorption properties. Some examples of building materials that contain asbestos include acoustic ceiling material, linoleum, vinyl flooring, stucco, attic and wall insulation, sheetrock, electrical insulation, cement board, and asbestos shingles.
Why is Asbestos Dangerous?
Many jurisdictions have banned the use of asbestos due to the health risks that it presents. Asbestos can be dangerous because when it is disturbed as a result of construction demolition, remodeling or maintenance, it can break down into fine dust particles and remain in the air for long periods of time. These particles can be easily ingested or inhaled by people living or working in the affected area, and are absorbed into their bodies, where they can exist for many years.
Asbestos has been shown to cause lung cancer, mesothelioma, and asbestosis, in instances where humans have been exposed to high concentrations of it over long periods of time. As the toxic effects of asbestos became known, the construction industry discontinued the widespread use of asbestos-containing materials (ACM) by 1980.
EPA & OSHA Guidelines On Asbestos
Although the United States has not completely banned the use of asbestos in certain applications, there are strict Environmental Protection Agency (EPA) and Occupational Safety and Health Administration (OSHA) regulations regarding asbestos. For example, the EPA requires that a Certified Asbestos Consultant, such as M3 Environmental, perform asbestos testing on any facilities constructed before 1980 which are set to be demolished or undergo renovations.
How is Asbestos Testing Performed?
We perform asbestos inspections in accordance with EPA guidelines. Our initial testing protocol includes a visual examination of the area thought to contain asbestos, the collection of air samples, and analysis of the samples using Polarized Light Microscopy (PLM). We prepare a thorough report for our clients that outlines our findings and proposes an asbestos remediation plan.
Step 1) Asbestos Test, Report & Remediation Plan
Our asbestos assessment reports include recommendations for correction and prevention, along with detailed steps for cleanup, including asbestos removal, handling, and disposal. When our tests detect Asbestos Containing Materials at levels greater than or equal to 1%, our remediation plans dictate that the asbestos must be removed and disposed of as hazardous materials by a Certified Asbestos Abatement Contractor. If the levels of ACM are less than 1%, the asbestos still must be removed by a Certified Asbestos Abatement Contractor; however, they do not need to be disposed of as hazardous materials.
Step 2) Oversight On Asbestos Removal
In addition to providing industrial and residential clients with remediation plans, M3 Environmental LLC also offers oversight on asbestos removal. Our certified team of Industrial Hygienists can provide on-site administration and air quality monitoring while the Certified Asbestos Abatement Contractor is performing the asbestos remediation.
Step 3) Test Again After Repairs Are Completed
Once the asbestos abatement is complete, we will provide you with a post-remediation inspection, which includes a visual assessment of the area and air quality testing. When the lab results conclude that the asbestos has been successfully removed, we will issue an abatement site air clearance.
Why Choose Us For Asbestos Testing?
We understand the need to complete abatement projects safely and expeditiously to protect the health and safety of residents and workers in areas thought to be contaminated by asbestos. We have nearly 20 years of experience working with local, state, and federal government agencies, as well as Northern and Central California property management companies, commercial property owners, contractors, and homeowners on asbestos testing projects both large and small.
Fast Turn-Around Times
We offer affordable testing solutions and prompt service, including quick testing and analysis turn-around time. Our asbestos remediation plans meet and exceed the legal requirements set forth by government entities and public and private companies of all sizes.
Order Your Test Today
If you suspect the presence of asbestos in your home or commercial building, allow M3 Environmental to assess your property and provide you with the tools to restore your peace of mind.