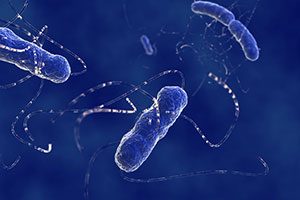 M3 Environmental LLC in Monterey County provides bacteria testing to government entities, commercial property owners, property managers, remediation contractors and homeowners throughout Northern California, Central California and across the Central Coast. When Category 3 Water, also known as black water, has been present, it is important to immediately test for harmful bacteria to ensure the health and safety of those living or working in the affected area. If you are faced with category 3 water, don't put your employees at risk; call the bacteria testing specialists at M3 Environmental LLC.
What is Bacteria Testing?
Testing for bacteria is necessary after a sewage backup, rising floodwater, or ground surface water has infiltrated into a living or working space. These types of Category 3 Water are known to carry strains of coliform bacteria that can cause moderate to severe health problems in humans. A Council-certified Microbial Consultant takes surface samples that are analyzed for total coliform, fecal coliform, and E. coli. If tests identify bacteria, we will then put together a remediation plan to remove the contamination, and perform post-remediation testing to ensure the area is safe to inhabit.
Why is Bacteria Dangerous?
Fecal coliform and Escheria coli (E. coli) are the two types of coliform bacteria found in black water that are related to mild to severe digestive and respiratory illnesses. E-coli is known to cause stomach cramps, vomiting, bloody diarrhea, fever, urinary tract infections, pneumonia, and other respiratory illnesses. Fecal coliform bacteria itself may not cause sickness, but it can indicate the presence of pathogens that can cause ear infections, dysentery, typhoid fever, and hepatitis A. Bacterial contamination cannot be detected through smell, sight or taste and can spread quickly. When a residential or commercial property suffers a sewage overflow or another Category 3 water loss, it is imperative to have a trained and licensed environmental testing company take samples immediately.
How is Bacteria Testing Performed?
Our industrial hygienists perform a sewage contamination assessment and collect swab samples from various areas of the walls and flooring touched by the black water. Our samples are analyzed by a laboratory accredited by the American Industrial Hygiene Association. Technicians screen the swabs for total coliform, and if they detect coliform, further lab analysis is performed to determine whether fecal coliform or E. coli is present. Upon receiving the lab results, we write a remedial protocol that will be used by a licensed remediation contractor to eliminate the source of the bacterial contamination.
Once the contractor has completed the microbial cleanup, we perform a post-remediation bacterial investigation. We retest the affected area and write a clearance once we determine that it is safe to return to the property.
Choose M3 Environmental LLC
As a Council-certified Microbial Consultant with two decades of experience assisting Northern and Central California business owners, home owners, remediation contractors and government agencies with Category 3 water losses of all sizes, we have the experience and knowledge to complete your bacteria testing and assessment thoroughly and quickly. M3 Environmental LLC understands the need for rapid analysis to protect the health of residents and workers, and we are able to quickly provide detailed remediation protocols for the most complex bacterial contamination scenarios. A leader in environmental consulting, we offer affordable testing solutions to clients of all sizes. If you are dealing with a black water loss, trust our professionals to give you accurate testing and a proven bacterial remediation plan.