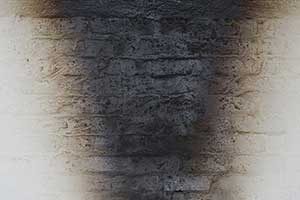 At M3 Environmental LLC, we provide professional combustion byproduct testing to homes and businesses in Monterey, California and the surrounding areas. Are you are noticing mysterious black or gray stains on walls or buildings around your property? Maybe you are filing a claim with insurance for fire damage and need professional fire residue testing. We provide extensive sampling, analysis, and testing of all combustion byproducts.
Black Stains On Walls, Ceilings & Carpets
Black markings on walls and other areas can originate from many different sources and can be unfortunate eyesores, but often they are the unintended result of combustion byproducts. If so, they can leave permanent damage to your home or business, and induce varying levels of health problems for you and your loved ones. The best way to know for sure is with professional sampling and thorough, efficient combustion byproduct testing from us. We test for multiple causes and sources including the most common elements such as:
Black Carbon
Soot
Char
Ash
Combustion Byproducts Come From:
California Wild Fires
House & Property Fires
Burning Propane
Low Quality Scented Candles
Natural Gas Furnaces, Appliances, & Fireplaces
Oil Or Diesel From Nearby Traffic
Health & Property Damage
Black carbon and soot can stain and cause irreversible damage to painted surfaces like walls and ceiling areas, household items such as TVs or computer monitors, and on softer areas like draperies, furniture, and carpets. Char and ash residue can also be present in the air you're your breathing at levels that can harm your health. The extent of the damage, the amount of cleanup needed, and the threats to your health can only be properly assessed through combustion byproduct testing. At M3 Environmental LLC, our experienced team of technicians will not only collect and analyze the samples, but we will provide you with a comprehensive, detailed report of the results, a property damage assessment and assist you in creating a plan of action for any cleanup.
Combustion Byproduct Testing Can Help
Our licensed and knowledgeable staff will get you the accurate answers and results that you seek. Because black soot contains small amounts of the accelerant used to start fires, combustion byproduct testing can pinpoint what the substance or cause is and trace it back to the source. This can help in claims where arson or premeditation is suspected. We can then suggest and assist with any needed cleanup procedures to your remediation team as necessary.
Get Answers Today
If you suspect your property or health may be affected by these damaging and dangerous residues than don't delay any longer. Let the specialists at M3 Environmental LLC in Monterey and surrounding areas perform careful collection sampling and combustion byproduct testing today. We look forward to providing you with the answers you're looking for in order to file insurance claims, start remediation procedures, or simply identify and remove the sources of any combustion byproducts. Contact us today with any questions or concerns you may have, or to schedule testing immediately.