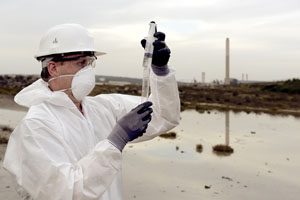 Protect your property with groundwater and surface water testing from your Monterey, CA water testing professionals, M3 Environmental LLC. Small shifts in the quality of water in our wells, streams, and aquifers that feed them can have big impacts on our health and environment. Property values, human and animal welfare, plant life, and overall opinion of a community can suffer when something bad is in your water. Let us ensure the safety and quality of the water in your area and restore your peace of mind.
How Does Water Become Contaminated?
So, how do our private wells and natural water sources become unhealthy and polluted? It can be as simple as a little extra rain bringing floodwaters through livestock areas, salted roads, or yards and fields treated with fertilizers, herbicides or pesticides. Maybe there's a landfill nearby, underground industrial chemical storage tanks or improperly stored fuel and oil. Septic tanks and sewer pipes can also crack with age causing leakage into neighboring water. You can protect yourself with our routine water testing services and flood water testing after a natural disaster or even sometimes after heavy rains.
Common Groundwater & Surface Water Contaminants
The most common sources of contamination for surface and groundwater are both natural and manmade. These toxins usually won't harm you at lower levels. At harmful levels, however, these chemicals, metals, bacteria, and viruses can cause health problems, livestock complications, and costly property damages that will only get worse over time. Let us uncover the source of your water contamination problem or just verify its safety by testing for the following:
Coliform Bacteria
Nitrates
Sulfates
Fluoride
Lead
Arsenic
Radon
Ensure Quality With Professional Testing
Whether you are concerned about your own private well, standing pond water, or a local reservoir, creek, lake, or stream, we can help. You want to find any sources of contamination right away while they're small and before they spread. Your local reputation, ecological health, community growth, family safety, and business productivity depend on it. Contact us at M3 Environmental LLC in Monterey to schedule your groundwater and surface water testing service today.