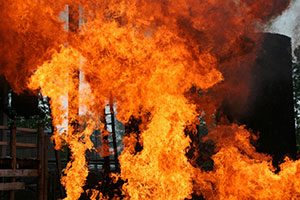 For industrial fire and explosion inspections count on M3 Environmental LLC in the Monterey County, California area. We are experienced and knowledgeable when it comes to industrial safety consulting and prevention of fires and explosions. Protect your workers and your investment today through a thorough industrial fire and explosion safety inspection.
Preventing Industrial Fires
Industrial fire and explosions are deadly and destructive. Many of these accidents can be prevented with an inspection of your facility by a professional environmental safety consultant. Reasons to choose us for industrial fire and explosion consulting include:
Testing for flammable gasses.
Testing for flammable liquids.
Air quality testing for the presence of flammable particles or dust.
Prevent costly industrial fire repairs.
Prevent lost productivity.
Improve industrial worker safety.
Potential safety hazards aren't always obvious. Many times existing problems are only discovered after the fact. Know what to look for. We can provide professional testing, inspection, and consulting to help rule these issues out. Save yourself the hassle of costly repairs, lost productivity, and cleanup time.
Industrial Fire and Explosion Safety
Fires and Explosions often go hand in hand and cost a tremendous amount of money, time, and often lives. At M3 Environmental LLC, we look forward to helping you prevent fire and explosions on your work site. With top of the line equipment and up to date information, we can train your crew to spot possible problem areas long before the incident occurs, preventing industrial fires.
Protect Yourself From Industrial Accidents
For industrial fire and safety inspections, contact M3 Environmental LLC serving the Monterey area. We provide a variety of industrial inspection, testing, and training services. Save yourself from the costly damages of industrial accidents by taking preventative measures. Contact us to learn more about how we can help you by contacting us today.