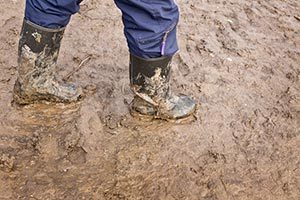 M3 Environmental LLC in Monterey, California has the tools and expertise necessary to make your home or business safe after a mudslide. The damage from the direct impact and flooding during a mudslide is noticeable, but the mud itself could contain hidden contaminants/toxins that present an array of health and environmental problems. Only mudslide contamination testing can find these invisible dangers before they can cause more damage.
Mudslides Create Hazardous Conditions
The majority of mudslide mud is composed of sand and sediment — the contents of ordinary dirt. If the area was recently affected by wildfires, a significant amount of ash would also be present. The most dangerous environmental hazards, however, are things that the mudslide picks up on its path through populated areas.
Oil, Gas, & Other Automobile Fluids
Raw Sewage
Gas From Broken Lines
Heavy Metals
Household Chemicals Such As Pesticides, Bleach, Or Paint
What Are The Dangers Of This Contaminated Mud?
After the January 2018 mudslide in Santa Barbara County, residents were advised to get vaccinated against tetanus and hepatitis A, B, and C — illnesses that are caused by exposure to unsanitary environments. Most adults infected with hepatitis A recover after a couple of months, yet the other three diseases are far more severe.
If untreated, tetanus will prevent you from opening your mouth, hence its nickname "lockjaw." This results in trouble breathing and swallowing that can ultimately lead to death. Hepatitis B and C can become chronic conditions that lead to other long-term health problems. For instance, hepatitis B is known to cause cirrhosis and liver cancer. According to the CDC, 90% of infants infected with hepatitis B and 70-85% of adults infected with hepatitis C become chronically ill.
California Wildlife Concerns
The same unsanitary conditions that pose health hazards to humans also threaten the environment. California is home to many rare and protected species of wildlife. If the mud is carelessly dumped somewhere and these contaminants aren't properly removed, many animals could die which would potentially alter the environment forever. Testing is vital for sparing human lives, of course, yet doing so will also save the environment.
How Can M3 Environmental LLC Help?
We provide fast, safe, and efficient inspections of both residential and commercial properties. After a thorough examination, our specialists will give you an assessment of the damages and a plan of action on how to remove and dispose of the contaminants with the help of other certified professionals. Our top concerns are safety and customer service. With over 20 years of experience and courteous, professional staff, you can rest assured that we will be there when you need us.
Contact Us Today
A mudslide is already a life-altering event. You, your family, or your employees getting sick and potentially developing long-term illnesses makes a bad situation worse. If your home or business has been damaged by a mudslide, call M3 Environmental LLC for testing today.