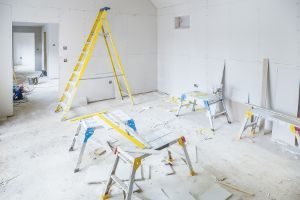 TV is full of sledgehammer-wielding home remodelers. Spring cleaning season and more time at home may have you tempted to tear down a few walls yourself. Before you jump into your next major overhaul, make sure you're on the lookout for projects that may expose you to lead paint.
Removing Interior Paint
Removing Exterior Paint
Knocking Down Walls
Drilling Holes Or Installing Fans
Adding Windows Or Doors
Gardening & Yard Projects
Indoor Projects In Older Homes
Chipping and peeling paint in older homes may be more than just an eyesore. According to the EPA, homes built before 1978 are likely to have surfaces coated with lead-based paint. Your first reaction may be to just get rid of it. Unfortunately, stripping, sanding, or otherwise disturbing this material can lead to lead exposure.
It's important to also remember that new-looking wall treatments may be layered over old, lead-containing paint. You don't have to be intentionally removing this paint to release particles into the air. Knocking down walls and drilling holes can also release dust into the carpets, furnishings, and air of your home.
You Are Still At Risk Outdoors
Outdoor projects should still be on your radar. Both interiors and exteriors can be painted with lead paint. Even gardening projects around old homes can expose you to lead dust and chips. Installing a new playground, adding onto your home, and updating your curb appeal with a bright new hue can all put you and your closely situated neighbors at risk.
Why Worry About Lead Exposure?
Fixing up an older home can be incredibly rewarding. With all the DIY magazines, shows, and supplies readily available, is lead poisoning really something you need to worry about?
According to the CDC, "lead-based paint and lead-contaminated dust are the most widespread and hazardous sources of lead exposure for young children in the United States." The EPA states that lead can affect almost every organ and system in your body.
Children and expectant mothers are especially at risk, but other adults and pets should still steer clear of lead paint and dust.
Play It Safe. Test First.
Whether you have a whole home renovation or just a few handyman projects on your list this spring, play it safe when it comes to your family's health. If you live in or around Monterey, CA, lead paint testing and inspections are just a phone call away. Contact M3 Environmental to schedule yours today.