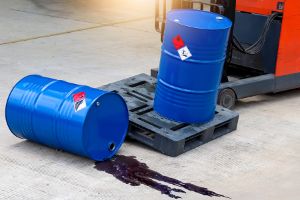 Monterey-based M3 Environmental now offers custom SPCC plans for those who need them. We ensure that your spill plan is tailored according to your company's unique circumstances and federal law. With our plan in place, you can be confident that you will comply with federal regulations and be prepared to handle any potential spills.
What Is An SPCC Plan?
SPCC stands for Spill Prevention Control and Countermeasure. It is a federal regulation requiring facilities to have plans to prevent and respond to oil spills. SPCC plans help stop a spill from reaching navigable waterways and their shorelines.
Who Needs An SPCC Plan?
The EPA has clearly defined covered facilities here. The rule applies when there is a reasonable expectation that stored oil could discharge into navigable U.S. waters or reach their shorelines.
You have a combined above-the-ground oil storage capacity exceeding 1,320 U.S. gallons, or
Your buried underground storage capacity is greater than 42,000 gallons.
Is Your Facility Included?
Places that refine, use, store, process, or consume oil could be subject to the SPCC rule. It doesn't include operations that only transport oil between locations. Here are some examples of entities required to comply.
Drilling Facilities (Onshore & Offshore)
Production Facilities (Onshore & Offshore)
Separators & Storage Facilities
Refining Facilities
Tank Trucks & Railroad Cars Moving Oil Within A Single Facility
Some Waste Treatment Plants
Operations With Internal Oil Pipeline Systems
Facilities That Use Or Store Oil
Agricultural
Industrial
Commercial
Public
It's Not Just Crude
The SPCC regulation covers all types of oils, not just crude. We have listed some categories below. However, you should remember that other forms not listed will also fall under the SPCC rule if they meet the other requirements.
Petroleum
Sludge
Vegetable Oils
Grease
Synthetic & Mineral Oils
Diesel Fuel
Biofuel
Hydraulic Fuel
Jet & Aviation Fuels
Motor Oil
Animal-Based Fats
What To Include In Your SPCC
The goal is to protect the environment and public health by minimizing the risk of oil spills and reducing the impact of spills that do occur. A spill plan will need to include some elements.
It must have information about the facility's storage and handling systems.
It must list the procedures and equipment in place to prevent spills.
It must include the steps taken in the event of a spill.
Outsourcing Your Spill Plan
Writing an acceptable SPCC plan is critical to comply with federal law. Although a non-engineer can write the plan, most operations need to have it certified by a Professional Engineer. Outsourcing to an environmental engineering firm means getting the document right first, saving time and money. Monterey-based M3 Environmental can create your SPCC plan for you, so it is done right the first time. Contact us today to get your plan started.