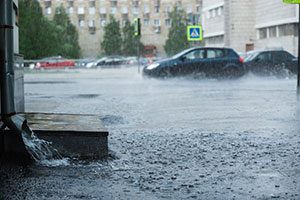 M3 Environmental LLC provides stormwater testing services in Monterey, CA and the surrounding areas. Storm and floodwater has become a known source of dangerous pollution in expanding urban areas. A variety of harmful bacteria and other contaminants can be found in storm or flood water runoff and they frequently make their way to lakes, streams, and beaches. we offer stormwater testing for businesses, city and county parks, and other local municipalities. 

What's Lurking in Storm Runoff?
There are many hazards in stormwater, especially in urban areas that are exposed to chemicals, lawn fertilizers, and organic waste from pets, pigeons, and other sources. Floodwaters can often contain several harmful substances including:
E. Coli
Enterococcus
Legionella
Giardia
Chemicals

Why Test Storm Water?
Flood water and storm runoff should be tested to ensure that companies and municipalities are within required and safe exposure limits. For example, construction companies are required to make sure that their stormwater prevention plans are adequate and working efficiently. Testing stormwater prevents many public safety hazards. Many times, the runoff from storms and snowmelt can end up in public waterways. The Enterococcus bacteria are especially hazardous at local beaches, swimming holes, and fishing spots.

What are the Dangers?
Bacteria levels for E. Coli and Enterococcus can be 15-20 times more than the EPA guideline for safe limits after significant rainfall. The effects of E. Coli include diarrhea, vomiting, and fever, but can also evolve into kidney damage and bloody stools. Enterococcal bacteria can cause urinary tract infections and endocarditis (heart infection). Other water-borne bacteria have similar effects and can even cause death, especially in the elderly and immunocompromised. Knowing what hazards are in stormwater is the first step in taking corrective action.

Choose a Trusted Company
Contact us today for stormwater testing or other environmental testing and management needs in the Monterey area. M3 Environmental LLC has more than 12 years of experience, along with numerous certifications, including the ACAC Certified Microbial Consultant and the American Industrial Hygiene Association. Our clients value our commitment to quality, and we're proud of our strong reputation in the community. We can test your water following the latest techniques and highest quality standards.