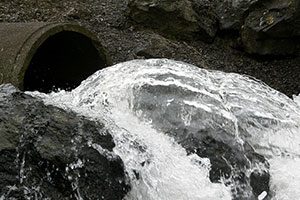 M3 Environmental LLC offers stormwater management services to the Monterey and surrounding California areas. We offer stormwater management plans, stormwater management designs, permit applications, and inspections. Whether you are deciding to manage stormwater runoffs due to your concerns for the environment, you are developing a new construction site, or you are attempting to become compliant with updated regulations, we can help.
Reasons For California Stormwater Management
Many customers find themselves asking why they have to comply with stormwater management requirements. For years, area development and building practices have added to the number of impervious surfaces in our environment such as roofs, sidewalks, parking lots and roads. Unfortunately, this decreases the filtration of water through natural soil areas and allows for more water flow. This water picks up various pollutants along the way. Pollutants contained in stormwater runoff can include:
Dirt from construction sites.
Pesticides and fertilizers.
Trash and debris.
Oil and other leaky car fluids.
Pet waste.
Salt and gravel from winter weather treatments.
These unfiltered pollutants are carried straight to our waterways and oceans killing plants, animals and putting our food at risk. Federal, state, and local regulations have been put in place to prevent this damage from continuing. These regulations primarily focus on new construction, but may also affect you. M3 Environmental LLC has certified water quality specialists who are knowledgeable about the latest water quality regulations. We can help you get on the right track to compliance.
Stormwater Management Compliance
We are experts in the best practices used to collect, manage and treat stormwater on-site to help you meet your personal environmental goals. We also bring your construction site to compliance with any pending regulatory reviews. We can help you avoid the negative impacts of stormwater including:
Flooding
Erosion Of Streambanks
Increased Muddiness
Animal Habitat Destruction
Sewer Overflows
Damage To Homes and Buildings
Stream and River Contamination
We will create an economical and attractive stormwater management system that can be invisible to your users, but highly impactful and friendly to our environment. Having a thorough stormwater management plan will get your project through the review process with ease.
Good Environmental Design
Many customers worry about unattractive collection units, but your stormwater practices could include attractive rain gardens, permeable pavements or vegetated swales that will blend seamlessly with your landscaping plans. The proper collection of stormwater can also assist you with your landscape watering needs by collecting the water from rains onsite and utilizing that water before it leaves your site. Recycled rainwater can be used onsite as a method of cost reduction and water treatment.
Stormwater Inspections
Once your project is under construction, you will be required to have periodic stormwater inspections. We can help with that too. We have certified stormwater construction inspectors on staff that will update your management plan and ensure you avoid any hefty fees or construction delays. Let us help you design a solution that will not only be compliant, but earth-friendly and attractive as well. Call M3 Environmental LLC about your Monterey stormwater management needs today.