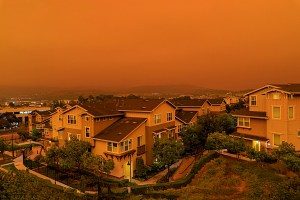 If your property has been affected by California wildfires, contact M3 Environmental for a wildfire smoke damage assessment. We receive a lot of concerns from clients who just have questions about smoke damage in general, like "the homes or businesses around me were damaged, but not mine – should I still be worried?" or "It's just smoke – do I really need to worry?"… We will help you find the answers to common questions like these and can provide the smoke testing services you need to protect and restore your home and property.
Wildfires & Smoke Damage
Wildfire season in California results in millions of acres burned per year, loss of property, and loss of life. Often, during the season's peak, many fires are happening at once and burn for days, if not weeks. The destruction of these disasters doesn't end when the fire is extinguished. Even if your home or business property is out of the line of immediate danger, wildfire smoke can cause damages that stick around and are costly to fully restore.
Walls & Studs
Carpets, Flooring & Area Rugs
Clothing
Upholstery – Curtains & Furniture
Attics & Crawl Spaces
HVAC Systems
Professional Assessments Protect Property & Health
In addition to property damages, wildfire smoke poses threats to human health as well. Children, older adults, pregnant women, outdoor workers, and people with asthma and cardiovascular health issues are most at risk. According to the EPA, there are many potential health hazards associated with wildfire smoke exposure.
Eye Irritation
Respiratory Tract Irritation
Reduced Lung Function
Pulmonary Inflammation
Bronchitis
Exacerbation Of Asthma
Exacerbation Of Cardiovascular Diseases
Who Needs A Damage Assessment?
It's often easy to see wildfire smoke residues polluting the air, even miles and miles away. The damages these same residues cause inside the home or the people living there are harder to spot. Even if you've dusted and vacuumed, foot traffic and airflow can continue to bring dangerous chemicals into your spaces.
Professional smoke damage assessments by a skilled environmental consultant can help ensure safety for residents, customers, employees, and students, and make all the difference in your clean-up and restoration efforts.
Homeowners
Business Owners
School & University Managers
Community HOA's
Medical Facilities
How Smoke Damage Testing Works
Our knowledgeable California environmental consultants know how wildfire smoke can enter your building, where particulate matter can collect, and what to look for on surfaces and in the air. We also have years of experience helping our customers collect the right information for smoke damage insurance claims. Our professional assessments can uncover a range of information to ensure that you get things cleaned up and repaired thoroughly.
Soot, Char & Ash
Volatile Organic Compounds (VOCs)
Polycyclic Aromatic Hydrocarbons (PAHs)
Polychlorinated Biphenyls (PCBs)
Other Combustion Byproducts
Metals
Odors
Corrosion
Schedule A Smoke Damage Inspection In California
Schedule a wildfire smoke damage assessment. You don't have to guess or face your insurance company alone. We can provide testing results and other information that will aid in your case. Contact us at M3 Environmental in Monterey, CA, today.