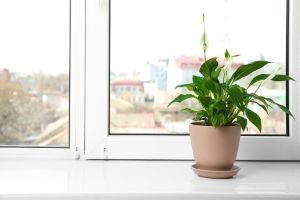 Cleaning products, air fresheners, paint, printers, carpets, furniture, cigarettes, and mold are just a few of the many sources of toxic air pollutants that quickly build up in homes and offices. Luckily, plants can offer a simple, natural, and cheap solution to low levels of indoor air pollution.
Spider Plant
Dragon Tree
Bamboo Palm
Rubber Plants
Aloe Vera
Chrysanthemums
Peace Lilies
English Ivy
1. The Spider Plant
Spider plants are easy to care for and are excellent at removing volatile organic compounds (VOCs) like formaldehyde and xylene. They are also non-toxic, which makes them an ideal choice for families with curious pets and small children.
2. Dragon Tree
In addition to having a spectacular-sounding name, dragon trees are able to remove benzene, formaldehyde, xylene, and other VOCs from the air. They can grow up to 8 feet tall, so they are most suitable for rooms with high ceilings.
3. Bamboo Palm
These days, you can find bamboo in everything from floors to towels. These trees are non-toxic, and can filter out carbon monoxide, formaldehyde, xylene, and benzene.
4. Rubber Plants
These sturdy air-filtering plants can remove many VOCs, including formaldehyde and carbon monoxide, from the air. They are drought-tolerant and easy to care for, making them a great choice if you lack a green thumb. Rubber plants are toxic to pets and should be grown with caution.
5. Aloe Vera
Aloe vera is an extremely useful plant. In addition to its many natural medicinal properties, it can help filter out benzene, carbon monoxide, and formaldehyde.
6. Chrysanthemums
These beautiful flowers can filter out benzene, xylene, formaldehyde, and ammonia. Chrysanthemums are also highly versatile and aesthetically pleasing – you can use them to make lovely floral arrangements and soothing, caffeine-free teas.
7. Peace Lilies
According to a NASA study, peace lilies are one of the three best plants for removing toxic indoor air pollutants. They are able to remove cigarette smoke, organic pollutants, and possibly even viruses, bacteria, ammonia, and radon.
Please note that peace lily plants are toxic to pets and children, so they should be kept at a safe and inaccessible height.
8. English Ivy
This air purifying plant can remove formaldehyde, toluene, and many other hazardous compounds. English Ivy grows well indoors and can climb nearly any surface, so it can be incorporated into many types of unique, interior design ideas.
English ivy toxic to humans and pets, so be sure to educate yourself on safe handling if this is your air cleaning plant of choice.
Indoor Air Quality Testing In Monterey, CA
Houseplants are great for removing low concentrations of toxins, but they can't remove high concentrations or detect the level of toxins present. At M3 Environmental, we can test your home or office air quality to uncover issues or increase your peace of mind. Contact us today to schedule an inspection.