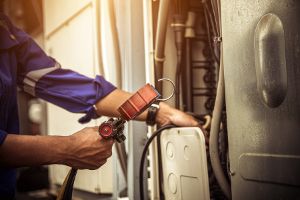 Eco-friendly practices drive the new generation of construction projects throughout the country. It's increasingly common for buyers to demand that you use green building materials, energy-efficient systems, and sustainable designs.
However, one factor that builders often overlook is air quality testing. Proper testing is vital to the success of every green building project. Let's explore the reasons why.
Ensuring Safe Air Quality
Here's a list of air quality tests that should be used at every construction site, green or not. These are designed to identify airborne contaminants that can affect indoor air quality (IAQ) or create health hazards inside a building.
HVAC System Sanitation
Carbon Monoxide / Carbon Dioxide Monitoring
Legionella Testing
Volatile Organic Compound (VOC) Analysis
Mold Analysis
Allergen Sampling
Bacteria Sampling
Dust Particle Sampling
Asbestos Inspection
Benefits Of IAQ Testing In Green Buildings
Air quality testing aims to ensure that the indoor environment is safe and healthy for occupants. Here are the main benefits of IAQ testing throughout the green building construction process:
Improves Indoor Air Quality
Detects Potential Problems Quickly
Increases Efficiency
Breathe Easily Indoors
If you conduct AIQ tests throughout the construction process, you can ensure that your finished building will have better indoor air quality than traditional buildings. This provides a healthier environment for future occupants and reduces energy costs because ventilation systems will perform more efficiently.
Stop Problems Before They Happen
Removing mold and fixing severe water damage can destroy budgets. AIQ testing provides early warning signs of VOCs, mold growth, poor ventilation, and other issues that, when ignored, can lead to costly repairs.
Save Money By Reducing Energy Costs
Properly conducted IAQ tests allow you to identify areas where improvements must be made so that your ventilation system runs more efficiently and saves energy costs over time. This increased efficiency will help make your overall green building more sustainable in the long run.
Tools & Techniques For Sustainable Building IAQ
Using the following tools alongside professional lab-based testing services can give you a comprehensive picture of your new building's indoor air quality before the occupants move in.
HEPA Filters On HVAC Systems
Carbon Dioxide / Carbon Monoxide Monitors
Thermal Imaging Cameras
Temperature & Humidity Monitors
Ventilation Fans
Poor Air Quality Is Not Green
It doesn't matter if you use all sustainable materials. If you have poor indoor air quality, nobody will accept your building project as a green design. Protect your reputation by contracting a professional environmental consulting firm to test your site for indoor contaminants.
Concerned About Your Air Quality? We Can Help!
Whether you've just finished a project or are ready to get started on your next green design, M3 Environmental is here to help. We offer comprehensive indoor air quality testing services throughout the Monterey County area. Contact us today, let us know your concerns, and leave the testing to us!