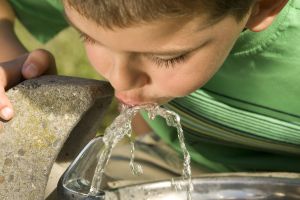 Make sure students have the best chance at health and the least chance of exposure to harmful substances with back-to-school water quality testing. A quick sip after gym, gulps between sports training sessions, and meal preparation — from daycare and preschool to k12 and university, kids of all ages come into contact with tap water at school.
Why Is School Water Testing Important?
According to the NEA, a 2017 effort to test water quality at Pittsburgh Public schools found 3% contaminated with dangerous lead levels, including 14 school water fountains. The EPA estimates that approximately 98,000 public schools and 500,000 child care facilities are not regulated under the Safe Drinking Water Act (SDWA).
Schools not regulated by the (SDWA) may not be conducting regular, voluntary drinking water testing.
Lead can get into school water through the plumbing on the way from local wells or treatment plants.
Even low levels of lead may cause behavioral problems, learning disabilities, and growth delays.
What Is Drinking Water Tested For?
An environmental consulting company, like M3 Environmental, can test school drinking water for a variety of contaminants, including microorganisms and metals. Once you know what you're dealing with, educators, parents, district staff, local policymakers, and water companies can take appropriate safety measures to protect students.
Water Issues After School Closures
Students may be counting down the days until summer break, spring break, or the winter holidays, but school closures can cause problems in drinking water quality. You may have procedures in place for prolonged closure, but are school breaks really a reason for professional drinking water tests?
According to the EPA, "When a school closes for an extended period (i.e., one week to several months), the water in the building's plumbing will become stagnant. The water may become unsafe for drinking, cleaning, cooking, or other purposes."
Who Should Be Concerned About Water Quality?
You may be thinking that testing isn't necessary because your child brings their own drinks to school or because public water reports have come back negative for contaminants like lead. It's important to remember that we live in an age of increased cleaning and hand washing, and that tap water is used in many school and food preparation activities.
The source of contamination could also be in pipes carrying water to the school or in the school's plumbing.
Schedule School Water Testing In Monterey County
Make sure stagnation and deteriorating pipes aren't putting your children or students at risk. Monterey County area schools and parents can count on M3 Environmental for regular water quality testing and post-closure assessment services. Contact our environmental consultants today to schedule an inspection or testing service and get your peace of mind back.