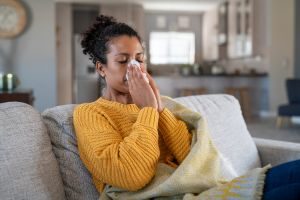 Allergies can be mildly annoying at best and downright debilitating at worst. Pollen isn't the only substance that can make your eyes itch and your nose sniffle, however. If you usually spend most of your time indoors while the flowers are in bloom but those pesky symptoms still won't go away, there could be another culprit—indoor mold.
Mold allergies can cause many of the same symptoms as seasonal allergies, plus a few more.
Is It Hay Fever Or Black Mold Cough?
Both triggers have very similar symptoms. So, it's almost impossible to self-diagnose. An allergist can help determine what exactly you're allergic to. Only an indoor inspection and air quality test can determine if you're regularly being exposed to mold at home.
Symptoms Of Seasonal Allergies
Itchy, Puffy & Watery Eyes
Sneezing
Excessive Mucus
Runny Nose
Nasal Congestion
Ear Congestion
Postnasal Drip
Throat Irritation
Dry, Scaly, Or Itchy Skin
Headaches
Wheezing
Coughing
Shortness Of Breath
Dangers Of Mold Exposure
If you have a chronic respiratory issue (such as asthma) and are allergic to mold, fungal spores may trigger an asthma attack or other more serious symptoms. According to the Cleveland Clinic, in rare cases, they have even been reported to travel through the bloodstream and form colonies in the lungs, kidneys, and brains of people with severely weakened immune systems.
If you or someone you live with is sensitive, and you suspect exposure issues, indoor mold growth is not something you want to take lightly.
Symptoms Of Mold Sickness
Coughing
Wheezing
Sneezing
Itchy & Runny Nose
Itchy & Watery Eyes
Postnasal Drip
Nasal Congestion
Itchy Or Sore Throat
Skin Rashes
Chest Tightness
Mild Fever
Chronic Fatigue
Get Answers & Peace Of Mind
If you're wondering whether your puffy eyes, runny nose, itchy throat, or irritating cough are caused by regular allergies or a sign of a hazardous fungal infestation, you may wish to have your home inspected. Professional testing may be the key to prevent further health issues and restore your peace of mind.
Mold Testing In Monterey, CA
At M3 Environmental in Monterey, our experienced technicians can inspect your indoor air for many common hazardous substances. If you're worried about whether or not toxic mold is harming your health, contact us today to schedule an appointment.