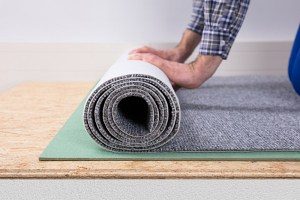 Make sure that your beautiful new carpet isn't polluting the air you breathe with VOC testing (Volatile Organic Compounds) by M3 Environmental in Monterey, California. Brand new carpeting in your home or business can elevate the look and relaxing atmosphere, but it's what you don't see that may end up costing you.
What Are VOCs?
VOCs, or Volatile Organic Compounds, are chemicals that occur in many common household products and home furnishings like wood floors, air fresheners, paints, adhesives, and carpets. When you have new carpets installed, groups of these chemicals are released into the air, causing that strong "new carpet" smell.
That's because you've saturated your environment with VOC-laden fumes for a time. This process is called "off-gassing."
Some of the most common new carpet chemicals include:
Formaldehyde
Styrene
4-Phenylcyclohexane
1-Methyl-2-Pyrrolidinone
2-Ethylhexanoic Acid
Caprolactam
Nonanal
Octanol
BHT
2-Ethyl-1-Hexanol
Benzothiazole
Isooctyl Acrylate
Methyl Biphenyl
Vinylcyclohexene
Which air pollutants are in your carpeting, that can end up in your air, will vary depending on several factors. Some of these include the type of carpet, the manufacturing process, how they were stored before installation, how they are installed, and the materials used during installation.
Should I Be Concerned About VOC Exposure?
That "new carpet smell" can be a happy reminder of an updated space, but it's important to consider the risks of VOC exposure. According to the EPA, dangers associated with these chemicals can vary greatly. So, the best way to protect yourself is by limiting your exposure as much as possible.
Children, the elderly, pets, and family members or employees that are allergic or asthmatic are especially vulnerable. The negative impacts fo VOCs on health can manifest in a variety of symptoms.
Wheezing
Persistent & Uncontrolled Coughing
Headaches & Dizziness
Nausea & Vomiting
Eye, Nose & Throat Inflammation
Difficulty Breathing
Skin Irritation
Rashes & Itching
Fatigue
Aggravated Asthma
Moodiness & Irritability
Environmental Testing For Your Peace Of Mind
At M3 Environmental in Monterey, California, we can test your air quality after a new carpet installation. Let us provide you with the information you need to ensure a healthy home or work environment. Contact us today to schedule your VOC inspection and testing services. If steps are necessary to clean your air, we can return to re-test and ensure that your efforts worked. Don't wait. Get peace of mind today.