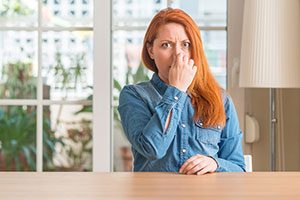 If 'you've had to ask yourself recently why your home, investment property, or apartment smells, it might be time to contact us at M3 Environmental LLC in Monterey, CA. Many possible contaminants could be causing unwanted odors, and not all of them are benign. Don't risk your health, or your tenants' health by ignoring the warning signs.
The Usual Smelly Suspects
If you are a property manager or landlord, chances are you are familiar with some of the worst offenders when it comes to a smelly apartment. Tenants who smoke or don't keep a property clean are common issues. However, other, more serious problems should also be checked out.
Here are some of the most common offenders:
Saturated Cigarette Smoke
Mold From Leaking Appliances
Mildew From Water Damage
Toxic Building Materials/VOCs
Faulty HVAC Components
Toxic VOC Contaminants
Volatile Organic Compounds, or VOCs, are one of the main offenders when it comes to poor indoor air quality. They are found in many products including flooring, furniture, paint, cleaners and disinfectants, dry cleaning chemicals, and other household products.
If VOCs are suspected, it's crucial to have VOC testing done by a reliable company, like  M3 Environmental LLC. These chemical contaminants cause many health issues, such as:
Breathing Difficulties
Live & Kidney Damage
Nose & Throat Irritation
Headaches
Skin Irritation
Suspected Mold & Mildew
Any water damage can cause the musty smell and harmful effects of mold and mildew. Black mold, in particular, is known for causing many health concerns. Because leaks can be hidden, it's sometimes challenging to find the source of moldy smells.
A proper building inspection and mold testing can help you find all possible sources of mold and mildew growth.
Fixing Air Quality Problems
Getting rid of smells is just one part of fixing air quality problems. Many of the worst offenders have no discernible scent. Air quality testing from a reliable environmental consulting company provides valuable feedback on all issues and offers solutions. The health and well-being of your families tenants and compliance with local ordinances are too important to ignore.
Help For Smelly Apartments In Monterey
At M3 Environmental LLC, we offer you experienced, reliable, and thorough air quality testing in Monterey, CA, and surrounding areas. Don't let your smelly apartment or home cause embarrassment, distress, or unnecessary health issues. Contact us today to get to the root of the problem with professional environmental testing services.