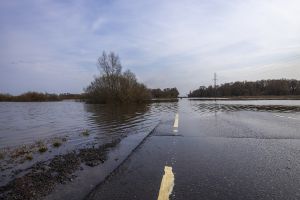 Floods are common throughout the state of California. If a flood occurs, the first priority once you and your family are safe is to evaluate the damage to your home and ensure it is a safe place to return to.  Cleaning presents a daunting enough undertaking on its own, but other dangers may also lurk unseen in your home, namely bacteria and other hazardous contaminants that can be detrimental to your health.
At M3 Environmental, our environmental consulting firm test for hazards that may result from flooding, so you can focus on recovering and getting your routine back.  Our team provides thorough testing and expert guidance for dealing with post-flood contamination.
Flooding Can Release Asbestos & Chemicals
A countless number of chemicals and minerals go into the construction of buildings and homes, and typically these remain safely within ceilings, walls, and floors – unless floodwaters rush in. Some substances, like asbestos, have even been linked to cancer.
Take advantage of professional environmental consulting to ensure your family isn't breathing in asbestos or other chemical contaminants, even after your home seems clean.
Testing For Mold Protects Your Property & Health
You'll likely find yourself wiping away mold as part of post-flood cleanup, but it's not enough just to remove visible mold. If you don't find the cause of the moisture, whether from flood water that has pooled somewhere or a secondary leak that sprung from storm damage, then allergies and exposure to toxins may continue and get worse.
The smartest way to make your home habitable again after a flood is to enlist the help of experts who know what to look for and can efficiently perform all the necessary testing.
Protect Your Air & Water Quality After A Flood
After water rushes across the ground and through the building materials of your home, it picks up dirt, bacteria, viruses, and any number of other pollutants.  Standing water after a flood can create conditions ripe for bacteria to grow and spread.
An experienced environmental consulting team can prevent further disaster following a flood by diagnosing contaminated drinking water and unsafe air.
Post-Flood Testing In Monterey County
When a disaster like a flood happens, your already busy life suddenly erupts into chaos, stress, and even more to-do list items.  At M3 Environmental, we can help protect your Monterey County family after floods.  Contact us today to schedule environmental testing.